ClubWPT Review
It's a good idea to find and read ClubWPT review before start playing there. This may help you to find out something valuable that will help you in future. This review contains all important information about ClubWPT poker room. It was written by several players according to their own experience. We hope this will help you.
Brand
First of all let's talk about the brand itself. If you like to watch poker on TV you have probably heard about World Poker Tour. It's a very big and cool poker championship held during the whole year. A lot of professional players take part in these tournaments. WPT is almost as popular as WSOP (World Series of Poker) and a lot of serious poker players are dreaming to participate there. Great prizes and opportunity to become famous attract people from all over the world to take part in WPT.
Now pay attention: World Poker Tour is standing behind ClubWPT! What does that mean? First of all it means quality and professionalism. Guys from WPT know and understand how to organize poker tourneys. They know and understand players' needs.
The second important fact is that WPT is a big brand with great reputation and players will always receive their prizes. It's a guarantee that you will always receive your money without any troubles. It's a guarantee that all your private information will be safe.
Website
Now let's talk about ClubWPT itself. The first thing you see when you arrive to the website is a big poster that invites you to register. Great, you can create a new account right now. The process is fast and will not require any private information from you.
You can also find information about upcoming tournaments and active promotions below the registration banner. Featured Tournaments section contains information about the most important tourneys that will be held. We didn't add current tournaments in this review because the list is dynamic and changes frequently. But anyway you can always find tourneys with guaranteed prize pools and other valuable rewards like $5,000 WPT Event Seat Package.
Lobby
Now let's review ClubWPT poker lobby. You can access it right after you create a new account. All you need is to log-in at the website. You will see special dashboard with different announcements and offers. Most of the offers are for VIP members. ClubWPT is subscription based poker room and you need to purchase "VIP" status before you can access these tournaments. It's very unusual and may seem very strange. But don't hurry. It's a great system that allows you to play poker games without risking money.
How it works? You purchase one or several months of VIP access and receive special Tournament Points. These points allow you to enter tournaments with real money prizes. If you lose all the points they will be automatically topped up. Thus you have unlimited access to all tournaments and promotions without any risks. That's the main feature of ClubWPT. We don't want to describe this system in the review because there is a special article you can read for more information: Real Money and Membership Plans - Basic, VIP, Trial.
Subscription system allows to enjoy poker and other games without risking money.
Poker Lobby is available to all membership plans. You can see the lobby by clicking "Play Now" button in dashboard or by choosing Games -> Play Now in top menu. The lobby is pretty standard and user friendly. Note: ClubWPT doesn't have any windows installer. You have to play right from your web browser. Some players will like it, some will not, but it's the only way to play right now.
Top part of the lobby contains different buttons that allow player to access Gifts, Badges, Trophies, Account, Settings, Gifts and Buy Chips.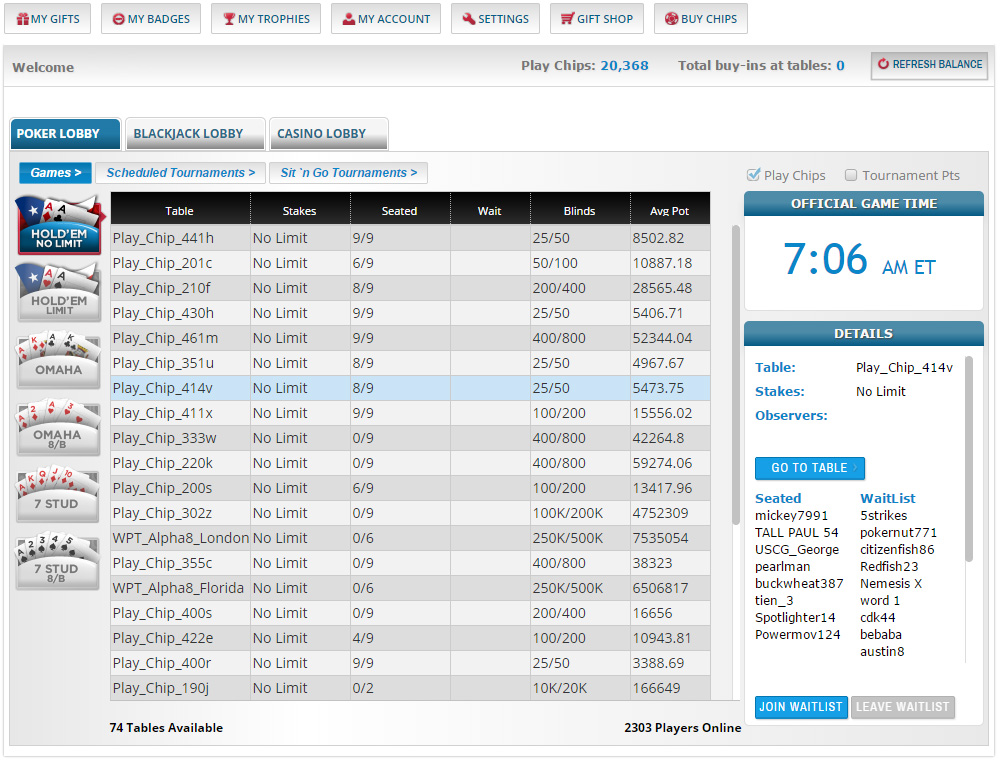 As you see there is a system of in-game Badges and Trophies. You can get them for some great achievements. Badges are easier to get. For example you get badges foe won and played hands. As you see it's not a big challenge. All you need is just to play and sooner or later you will receive some of the badges.
Trophies are much more difficult to win. You will receive a trophy for a serious achievement like 1st place in monthly leaderboard, winning Boot Camp, winning or reaching final table in $10 000 monthly tourney. The coolest trophy is called "Live Event Cashed or Final Tabled". You can get it if you received cash prize at Live WPT Tournament. To get this trophy is a big challenge!
The system of badges and trophies is rather interesting and makes the game even more challenging.
Games
ClubWPT offers different games. You can switch between games in Lobby. You can switch to Poker Lobby, Blackjack Lobby and Casino Lobby.
Poker Lobby allows to play Poker games like No Limit Hold'em, Limit Hold'em, Omaha, Omaha 8/8, 7 Stud, 7 Stud 8/8.
Blackjack Lobby allows to browse all blackjack tables.
Casino Lobby allows to play Slots, Vegas Baby, Queen of the Nile, Candy Rush, Galaxy Gems and Gladiator. All these games are similar in general.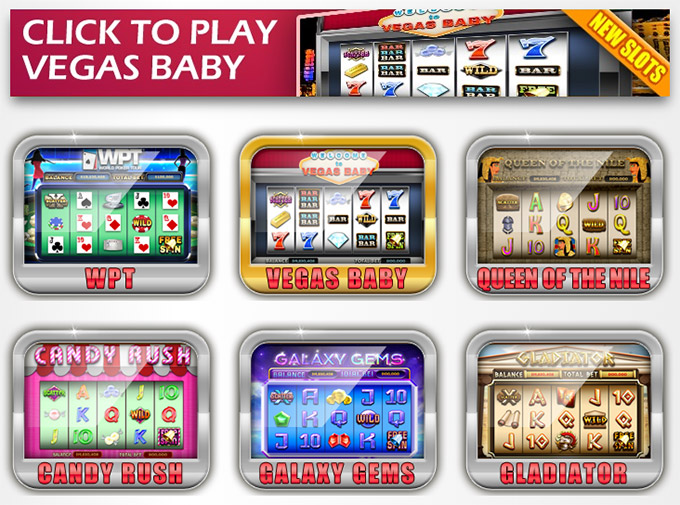 As you see WPT Poker Club is not just a poker room. It also allows several casino games. If you like casino, you should definitely try to play there.
Poker Tables
Now let's make a detailed review of poker tables. Most of ClubWPT members play different poker games, that's why software developers paid attention to designing tables and making them comfortable to play at. The design of the table is pretty attractive. Layout colors are familiar to all WPT fans.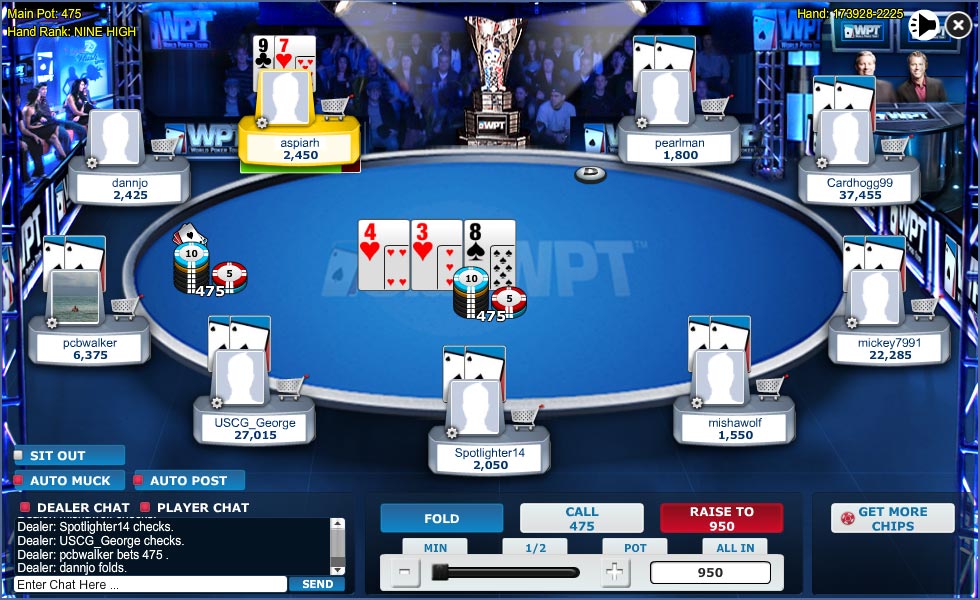 It's possible to open several tables at a time. Each new table will be added to poker lobby and can be opened like tabs in your web browser.
You can see Dealer Chat and Players Chat in bottom left corner and betting menu on the right. Chat is in English and most of the players speak English. That's because ClubWPT accepts players from USA, Canada, Germany, France and Australia only! You will not meet players from other countries in tournaments and games for VIP accounts.
Most of the elements are located on traditional places. You will find them where you expect them to be.
Tournaments and Promotions
This ClubWPT review would not be complete without tournaments and promotions analysis. As you already know the poker room accepts players from 5 countries only and uses subscription model. This affects the amount of "serious" players who decides to spend money at the Club. If you compare promotions of big poker room like Poker Stars with promotions of WPT Club you will see that the former offers bigger promotions for serious poker players. That's not a surprise. PS has a lot more real money players and thus more income.
But anyway, ClubWPT offers amazing prizes. They spend $100 000 for different prizes monthly. Huge promotions are held in the end of each year. For example "Road to the Fiat" allows to win real Fiat car. Isn't this prize great?
Don't forget that you can participate in all promotions without spending extra cash. If you are VIP member (starting from $19.95 monthly) you are free to enter and participate in any promotion you wish! It's the best advantage. You don't have such opportunity at FullTilt or Party.
Final Review
We recommend ClubWPT for beginners and average players who don't want to take big risks, but still want to participate in tournaments and games with real money prizes. It's a very good choice if you want to learn poker rules and earn something valuable. You will also feel comfortable and safe there if you are from USA. WPT Club is 100% legal in United States and it's another great advantage.
Hope this review helped you to find out more about ClubWPT. If you still doubt about creating account, read about Free Trial offer. This offer allows you to try everything for free. That's a great promotion you shouldn't miss!