ClubWPT Affiliates - Full Guide for Beginners
This article is not about playing poker. It's about how to make some money inviting new poker players to ClubWPT. This topic is very interesting. We are also affiliates and we would like to share our experience with you. Hope this article will help you to find out new information about the Club.
Let's begin with basic terms. ClubWPT Affiliate is a person who signed up at the Affiliate backend and promotes the poker room to others. Each affiliate receives commission for successful actions. As you see the main task of an affiliate is to invite as many players as possible using your aff links.
Benefits of being WPT Club affiliate are obvious:
You don't need to play poker yourself to make money. You don't need to learn poker rules and strategies. Of course it's great to have poker experience. This will help you to answer poker relates questions of the people you wish to invite. But you can start your affiliate business without any knowledge about poker.
Being ClubWPT affiliate is your business. This business may be small and bring you some extra money or may become large. Everything depends on your actions and goals. Your income depends on your actions. If you want to be serious affiliate you will have to invest your time and sometimes money. If you spend enough time for promoting the room you will most likely succeed.
You receive fixed amount of commission for every player who makes purchase. There are no limits or restrictions. If you attract 1000 players you will get paid.
World Poker Tour stays being the room. Working with such a big brand is great and easy.
All payments are made in time and you have your dedicated affiliate manager. This manager will help you with all your problems.
Special backend with promotional materials, links and banners is available to you. You can use these materials at you website or somewhere else.
Requirements
There are no specific requirements. All you need is to have free time for this.
We recommend you to reed Affiliate Agreement first. This will help you to understand how WPT Club operates. We advice not to ignore this agreement and read it before you start. The image below displays ClubWPT backend for affiliates. You can register new account there and log-in. Link to the Agreement can also be found there.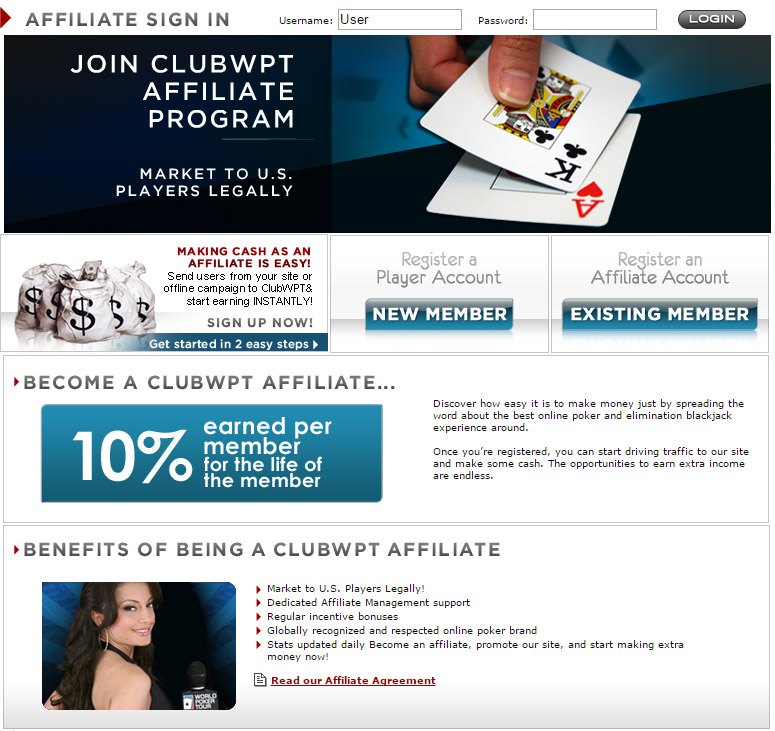 Backend is a very important place. You can find all your aff links and banners there. You can also see statistics there. The statistics shows how many players sign-up using your links, how many purchase VIP account and so on.
Income
Your income depends on the quantity and usefulness of the players you attract. ClubWPT pays commission based on "revenue share" system, meaning you receive money when your player purchases VIP account. It's a standard Revenue Share deal: you get money if poker room receives money from your player. The money ClubWPT pays you for your affiliates is called commission.
Size of the commission is fixed and is equal to 10% of the revenue ClubWPT receives from your players. The greatest thing is that all players you have invited stay yours for their "lifetime". If a player you have invited a year ago suddenly decides to make a purchase, you receive your share. Moreover, if your affiliate purchases VIP account every month you receive your commission from every transaction. It's a very good offer. You receive money every time your affiliate makes a purchase.
ClubWPT (as any other poker room) doesn't pay for useless players. If you invite a player who doesn't want to invest his money, you receive nothing. Once again: if you have invited 100 players and nobody wants to purchase VIP account you receive nothing. If poker room doesn't make money from your players you also don't receive income.
Multi-level Program
Right now ClubWPT pays commission for the players you have invited directly. You don't receive commission for the players invited by your affiliates. That means you don't need to worry about expanding your network making it deeper. Concentrate all your efforts on inviting players.
Tracking
Player becomes your affiliate if he uses your affiliate link for registration. He must click a link first and then create a new account. It's the best way to invite people because they don't need to do any special actions.
There is also bonus code system. You can create bonus code and if player enters this code during registration he becomes yours.
Payouts
There are several options you can use for receiving your commission: cheque or direct deposit / wire transfer. Unfortunately you can't receive commission via PayPal or other fast payment method. You can discuss all questions about payouts with your affiliate manager.
If you live in the USA or Canada cheque will be the best option for you. It will be sent by post and you will get it rather fast. The commission is low and you can exchange the cheque for money in most of US banks.
The other option is wire transfer to your bank account. Don't forget about commission taken by bank for such operation. The commission is payed by affiliate and it's rather high. You will have to pay at least $50 per transaction. Though the commission is high, this option will be the best if you live far from USA.
We recommend setting up payment threshold at the level of $500 - $1000 for wire transfer. This means you will not be paid untill your income reaches this summ. This will help you to avoid paying commission too often. You can discuss this question with your affiliate manager.
Payouts are always in time. You can receive your money every month or can set up special threshold. Everything is up to you.
How to Promote?
It's the most difficult question to answer. We can't advice you how to operate your business because we don't know your skills and knowledges. One of the best methods is to create a website, but you must be good in Search Engine Optimization. Poker is a tough niche and the level of competition is high.
There are several other ways except building a website. You can become active member of a poker related forum and add your affiliate link in the signature (if it is allowed).
You can promote ClubWPT to your friends talking about poker with them and sending links.
It is business and you will face with competition. The good news is that the level of competition correlates with the income you can potentially get. There is one tip we can give to a beginner: don't expect to receive great income in the first month or two. Be patient and continue building your business.
Increasing Conversion Rates
Now you know how the affiliate system works in general. As you see the general task of any affiliate is to stimulate players to purchase VIP accounts. How to do it? On our opinion the best way to do it is to tell players the truth.
If you have a website with poker traffic it's great. But don't rush to invite as many people as you can, hoping that someone will buy subscription. You'd better tell your players more information about ClubWPT and about the offers of the poker room. Tell them about Free Trial Offer and about how to Download and Install the software. You will get more targeted traffic and your players will be ready to make a purchase.
Don't forget that ClubWPT has a list of eligible countries. Not all people can upgrade their accounts to VIP level. The room accepts players from the United States, the United Kingdom, Canada, France and Australia. If you have traffic from other countries you shouldn't drive it to the Club because you will receive nothing! Players from other countries will not be able to make a purchase and thus you will not be rewarded.
This article is one of the most informative articles about being ClubWPT affiliate. We revealed a lot of useful information and hope this information will help you to start your business. Now you know a lot more than most of the other beginners and it's your advantage. Good luck guys!