ClubWPT Cash Games
This article will tell you everything about Cash Games at ClubWPT. Many players ask about this because they don't understand role of real money at this amazing poker room. We will help you to understand everything fast. You will also find out why this room is much better than others and why real money games are not for all.
If you are looking for a poker website where you can put your funds at risk – WPT Club is not the best choice. That's because there are NO cash games there. Yes, there are no real money ring games. That's both advantage and disadvantage. On the one hand this allows players to save money, but on the other most people don't trust such unusual scheme. They think that poker room can't exist without deposits. And that's a big mistake! Practice shows that subscription based poker rooms can save you a lot of money!
There are no cash deposits and thus there are no real money games at ClubWPT! You can't take money at the table and make bets. But how to play then? You need to understand membership plans first. There are 2 types of membership: VIP and Basic. Basic is free and doesn't give many opportunities. But VIP which costs about $19.95/month is much better and allows to win great prizes.
Every VIP member receives special Tournament Points. These points are used INSTEAD of money! But the main difference is that there are no ring tables where these points can be used. These points are used for participating in tournaments only.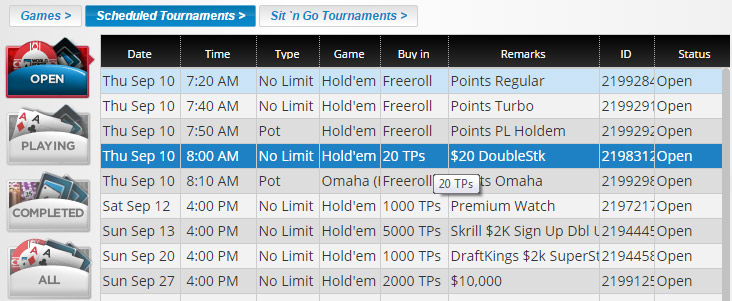 The only way to win something valuable is to participate in tournaments. The prizes in tourneys are great and different. You can win some extra funds or useful item like cool poker glasses or watches.
Ring Games at WPT Club can be played with Play Cash. There are no real money ring games and you can't use Tournament Points there. You should take this into account if your #1 goal is to play only ring games.
Cash Games = Bankruptcy
Now you know that you can't use your cash at ClubWPT. This may frustrate you but don't close the page. Read following information please and you will change your opinion.
All poker rooms ask player to deposit money. That's standard practice. You make a deposit (for example $100) and use this money to take part in Ring Games and Tournaments. Everything is great but only until you start losing. Nobody will tell you that there are a lot of professional players in popular rooms. They are sitting and waiting players like you. They know how to play and you are "Fish" for them. They are the "Sharks".
The truth is: a beginner will never win money in poker until he learns how to play. But who knows how much money you will have to lose until you get enough knowledge? Maybe $300? Or $1000? Popular poker rooms will never tell you that you can lose your first deposit within several days or ever several hours. And you will have to deposit again in order to continue playing. That's how most websites operate.
Now let us ask you a question: why you want to put your money at risk if you can train your skills at ClubWPT paying fixed amount per month? Yearly membership will cost you $239 and you will have GUARANTEED access to poker tables every day, every minute during the whole year!!! And nobody can interrupt this. You can play poker for 365 days regardless your skill and success. You can lose every tournament but you will not be knocked out of training and playing! You will be able to participate in many tournaments where cash and other prizes can be won.
Never Lose a Dime
Slogan of ClubWPT is "Never lose a dime playing poker" and that's the truth! You will never lose your cash because you don't make deposits. Your survivability will no longer depend on your skill. You can be the worst player in the world and still play every day. This opens up a lot of opportunities:
You receive time to boost your skill. Nobody will require you to deposit again and again. You have time to learn and to progress because you purchase this time. This is perfect opportunity for any beginner to become skilled player. Most players have great potential but they cannot become pros because severe poker world knocks them out. At ClubWPT you have this time. You can progress paying very low price for this.
You know how much money you will spend and thus you can control your poker budget. All spending are predictable. For example Quarterly Subscription will cost you $69 and nothing more! You know that you will spend only $69 for 3 month of access regardless your success and luck at the table.
You can raise even more funds. Don't forget that ClubWPT offers cash prizes and thus you can increase your bankroll if you play good enough.
Emotions are not involved. You can learn to play poker without emotions because you don't risk. This allows to pay more efforts and attention to analyzing hands in real time. Your vision is clear and your decisions will be better.
As you see there are a lot of advantages in subscription system. You have time, you don't risk, you can win more funds! It is the best offer you have ever seen. Why don't other rooms also use such system? Because player gets all advantages! But for a poker room this system is not as profitable as traditional deposit system. Poker sites receive more money when they take rake from every hand. This is great for a room but bad for a player.
Now you know that WPT Poker Club is one of the best places where a beginner can start his long way. Sign up now using our Download guide and you will be eligible for 2 Weeks of FREE Trial access. Try this amazing room for free! Don't miss your chance. Many players are dreaming of such opportunity!