ClubWPT Free Trial
This article will tell you about Free Trial period at ClubWPT. What does it mean? How to grab it? Are there any obligations? And a lot of other information. But let's start from basics in order to understand everything.
ClubWPT is a subscription based poker room. It is unusual for most of players because traditional poker rooms use deposit system. This is the general difference between WPT Club and other rooms. If you have played at PokerStars or Full Tilt you know that you have to deposit money there. You need to make a deposit in order to take the money at the table when you play.
ClubWPT uses subscription system. "Subscription based" means you have to buy subscription before playing in tourneys with real money rewards. You don't deposit money to take it with you later. You purchase subscription and receive special points in return. These points allow to play different games. If you are out of points they will be automatically added.
As you see the system is very unusual. Some players may think that such organization of poker games doesn't make sense. But that's a big mistake! WPT Club is one of the largest poker rooms in the United States. This fact is the best prof of its success and popularity.
Owners of ClubWPT also understand reaction of players. They know that such system may scare away some players. And that's why they created an outstanding promotion for all new players: everybody can receive 2 weeks of Free VIP access and test all offers of the poker room without any payments!
This promotion gives you an opportunity to understand what the Club is and how it works without spending a cent!
Advantages:
This offer is free. You are not required to pay for getting Trial Access. Moreover, you are not required to enter any payment details! WPT Poker Club doesn't want you to feel uncomfortable. You just claim the offer and enjoy playing poker games.
ALL benefits of VIP membership are available during this Free Trial. Your account receives temporary upgrade from Basic to VIP. You become full member of the poker room for 2 weeks and you can do what other VIP members do.
You can win money and other prizes during this Trial and you will be able to take all the prizes with you!
NO obligations, you will not be forced to continue as VIP after the testing is over.
Brilliant offer with great terms!
How to get trial access?
Testing period is the best way to try all club services. It's a like a bonus that allows to try everything and you don't need to use any bonus code to claim it. You are not required to do anything special in order to benefit from this amazing offer. You just need to sign-up as a new player. Once the account is created you need to claim the offer and you will receive Free 2 week VIP membership status. You can take you seat at all tourneys with real money prizes and try all offers of ClubWPT!
» Click HERE to get FREE 2 week Trial «
No costs, no risk
After the testing period is over you can continue as VIP member or as Basic member. What option to choose? Well, everything depends on your future plans. If you want to continue playing tourneys, winning prizes and benefit from VIP access you will be required to buy VIP membership. It is not expensive, only $19.95 monthly. You can buy 3 month or 12 month VIP access and save money. To find out more about discounts read ClubWPT Membership plans.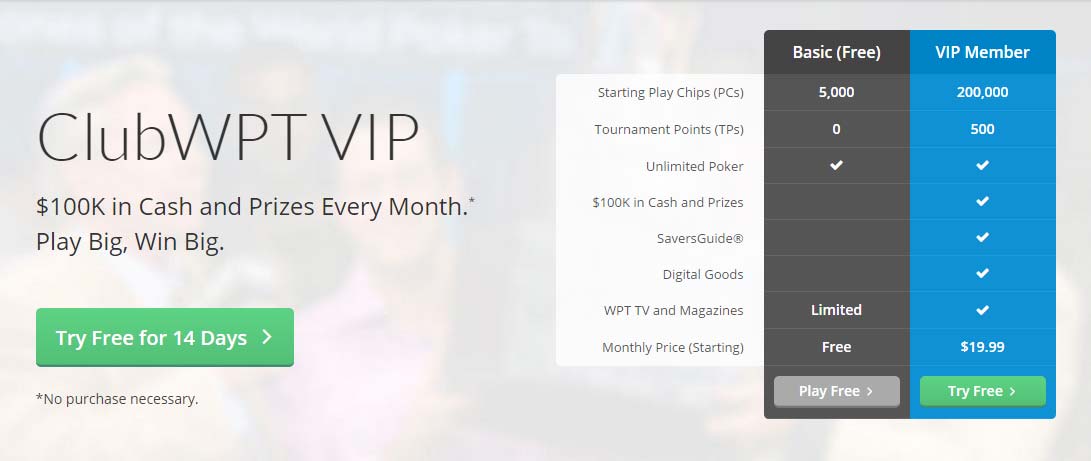 ClubWPT was created to provide high quality poker experience and you can try it for free. It is a great deal: no payments, no risks but an opportunity to change your life in return. A lot of players started their poker careers from this offer. Become one of them!