ClubWPT Express Poker - iOS Application Review
ClubWPT Express Poker is a new smartphone app that allows you to enjoy poker games on your Iphone. This page is fully dedicated to this app. We will tell everything about how to play poker games using it and about how other players review this app.
This app appeared on Itunes in Games category not so long ago. The launch date is 1st of September 2015 and it was downloaded by many poker players. Though Express Poker didn't reach top place in iTunes popularity chart this app is rather popular among gamblers.
System Requirements
If you wish to try it you need to know several facts about "system requirements". The size is about 71 MB which is rather heavy. You will need at least 6th version of iOS in order to run this game. You can run it on iPhone, iPad, and iPod touch. As you see the application has pretty standard requirements.
Right now it is translated into 13 languages and rated 12+ for Frequent / Intense Simulated Gambling. As you see there are many translations available. That's great. Unlike ClubWPT which has a list of eligible countries, Express Poker can be played by any person from any part of the world. There are no country restrictions. All you need to launch and play id to have an iPhone, iPad, or iPod touch and download the app.
Interface and Tables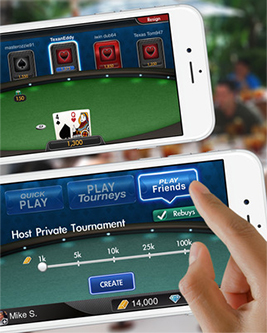 Interface of the app is rather comfortable. As any other poker client, Express Poker has main lobby where you can select which game you wish to play. You can select to Quick Play, Play Tourneys and Friends Play. The first 2 options are pretty standard. They allow to play poker against random opponents.
But Play with Friends is something new. It allows holding private poker games. Yes, you can start a new private game and invite your friends. You can set up initial buy-in and specify if you allow re-buys. That's really interesting. On our opinion this opportunity makes the application great.
Players
As you probably know all poker apps have large number of beginners. They don't really understand how to play and sometimes go All-in with any 2 cards. Express Poker is not an exception. There are a lot of beginners. But this is an advantage for skilled player. If you understand what to do this may become your advantage.
Anyway the skill level of players usually changes over time. Maybe in several months it will be more difficult to play there.
Achievements
ClubWPT Express Poker has system of achievements which are called "Missions". You can select an achievement and if you complete it you will receive achievement points. There are different types of goals. For example:
Build your bankroll up to 25K – 10 points
Complete 10 more 1k tourneys – 15 points
and so on...
This system makes the games more interesting to play. Such goals stimulate players return and give them clear goals. You can also see your progress within every achievement which makes the process even more challenging.
Micro transactions
ClubWPT Express Poker is a free app and you don't need to pay for it. But that doesn't' mean you will not have to pay at all! There are micro transactions which can leach some of your money. You can purchase different upgrades and game packages. Here is a list of the most popular features with price:
Rebuy $0.99
Low Stakes Combo Package $4.99
Spin $0.99
Add-On $0.99
Small Diamond Package $1.99
Small Gold Package $4.99
Value Package $19.99
Medium Diamond Package $9.99
Four Color Deck $0.99
High Stakes Diamond Package $19.99
Is it possible to play without spending money? Absolutely. You can play without spending a cent. But sometimes you may want to spend some money for cosmetic upgrades like Four Color Deck. Sometimes you may also want to purchase an Add-On and get extra chips or to buy a Reby to stay in the tourney you wish to complete. Nobody forces you to pay. This is only your initiative.
User Ratings and Reviews
In general users are satisfied with the app. They like how it works and the options it offers. Thought there are still some minor bugs, the app is great and you can enjoy it. By the time this article was published the app was rated by 230 iTunes members with average rating equal to 4 stars.
FAQ
Q: Are ClubWPT and Express Poker the same?
A: No, these poker rooms are different. The former is a subscription based poker website. The latter is application for iOS. They are not connected. They don't share players. Both rooms have independent base of players and different terms of membership and participation. If you know nothing about ClubWPT room we recommend you to look through this website. We have collected a lot of information bout this room here.
Q: Is there Express Poker version for Android?
A: No, right now you can download and run this app only on iPhone and iPad. There is no Android version. But we don't know about future plans of developers. Android smartphones hold large share of the market and it looks like we will see the application for Android sooner or later.