ClubWPT Download | Get 2 Weeks of Free VIP Access!
This guide will tell you everything you need to know about how to download and install ClubWPT software, how to play from Ipad, where to get Android and iOS Apps and so on. As you probably know every poker room like Full Tilt requires player to download special client in order to play. Once the client is on your hard drive, you need to install it. The installation process is simple and after it is complete you are free to start playing. This process is standard for most poker rooms, but not for the ClubWPT!
If you are looking for ClubWPT downloading link you will hardly find it because the room doesn't require player to install any software. Yes, there is no .exe file! All you need to start playing is to register and launch client in your favorite web browser.
This solves a lot of problems and makes the room more accessible. For example you can play not only from PC but also from MAC, IPhone, IPad, Android based smartphones and tablets. Click the link below to create new account.
» Create a New Account «
No costs, no risk!
You will see "New User" button right in the center of the screen. Click it and follow the instructions. You will see special sign-up form. The form contains several fields you need to fill in order to continue.
The first field is e-mail. Please, use your real e-mail address. Conformational link will be sent to this address.
Username is your Nickname in the poker room. It is very important to choose Username you like because other players will see it when you sit at the table. You will be recognized by this name. Don't use any offensive words. It is strictly prohibited! Your account may be suspended if your Username contains offensive words and expressions.
Bonus code field is optional. You may leave it blank or may copy and paste code VIPCLUB in order to get 2 weeks of Free trial.
Click "Create my Free Account" after you complete filling the form. You will then receive an e-mail with a link to confirm registration. Congratulations, your account is ready.
You may also use your Facebook profile to register at ClubWPT. You need to click "Login with Facebook" button. Facebook will ask you to confirm your actions. ClubWPT will receive the following info: your public profile, friend list and email address. It's very comfortable to use this option.
Now you have a valid account and you are ready to start playing. Remember, you are not required to download and install any software. You already have everything. Open your browser, log in using your ClubWPT login and password and you will see "Play Now" button.

Click "Play Now" button and you will see poker lobby. It will appear in your web browser. In general, lobby looks very similar to what you see in other poker rooms. You can see a list of games and tables; you can also manage your account.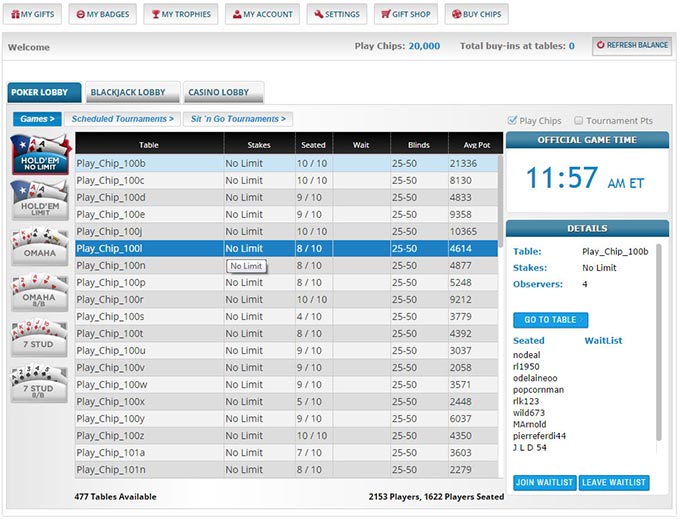 There are 2 types of membership: Basic and VIP. You are basic member by default and have access to freerolls and play-money games only. VIP members can use all services of the Club including real money tournaments. Don't forget that you are eligible for 2 weeks free trial period. You can use all services of the club for 2 weeks for free!
NOTE: it is not necessary to deposit money after you create account. ClubWPT uses Subscription system and deposits are not required. You will be able to play tournaments with real money prizes after you purchase VIP subscription.
Several years ago the room also required players to download and install special ClubWPT software. Player had to do this in order to play. But unfortunately the soft was slow. Nowadays everything is much easier: you just create account and play. You can enjoy favorite poker games from any PC and from any browser. Just launch Google Chrome, Firefox, Opera, Safari or any other browser. You can play at home, at work or anywhere else. WPT Club is with you everywhere.
Sometimes we see that players are trying to find information about .exe download. Don't waste your time. The poker room doesn't have any setup files, so you will never find any exe file that can be installed to your computer. You can run ClubWPT software from your browser only! Installation is not required.
FAQ
Q: There is no need to install the room. Am I right?
A: Yes, you don't need to set up anything. The lobby can be launched from browser.
Q: Where to get ClubWPT App for Iphone, Ipad or Android based devices?
A: Many players are asking about application. Right now there is no app for Iphone, Ipad or Android based mobile devices. You can participate in poker games and compete for prizes from any web browser. But who knows, maybe World Poker Tour will add an app later. On our opinion it will be a solid decision. Smartphones are becoming very popular and people spend a lot of time playing different games from their smartphones. ClubWPT should take this into account.
Q: Where to download Mac version of the software?
A: There is no separate Mac version. Browser client works great from Mac computers. Separate version of the software is not required. You just need to launch web browser and play.
Q: What to do if I face an Error?
A: Though WPT Poker Club doesn't use separate software, players may face with different problems. If you see that something is going wrong or you faced with an error don't hesitate and contact Customers Support. Support is always ready to help you.